How to get to Uno station/port to Naoshima island (also onto Teshima and Inujima Island)

From Tokyo, Kyoto, or Osaka Shinkansen map/info Very useful JR TRAIN CONNECTION/TIMETABLE search site

JR Line - Take Shinkansen (bullet train), other JR express/local trains to the JR Okayama Station.

Air - If you fly in to Okayama airport, you have to take a shuttle bus or taxi to get to the Okayama Station.

Highway Express Bus - Those of you who do not have JR Pass and are intersted in taking express busses, you can find one-way ticket at somewhere from 5000 yen to 7000 yen (from Tokyo). Several bus companies do. here is goole example.

From Okayama Station to Uno Staion area map

1. By JR Train (570 yen/ 42 - 54min/ departs every an hour or less. Timetable)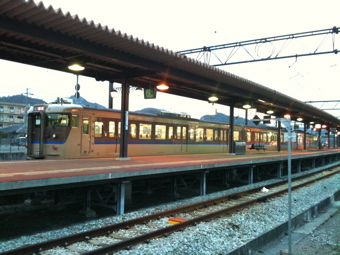 A direct Uno Line to the Uno Station runs about once an hour from 5:49 AM until 11:24 PM (except from 8 AM - 2 PM). Even if you missed a direct Uno Line, you can take Seto-Ohashi line (incl. Marine Liner, the express), which runs about every 20 min, to the Chayamachi Station, then transfer to the Uno line from there to the Uno Station, the last stop. Many of you may already have JR Passes, so why not?

Tip: If you want to try having an advanced "lost in translation" sensation, this is a way to go. You will be in a crowd of local commuting passengers...


2. By Ryobi Express Bus (640 yen/ 50 - 60 min~/ departs every 20 min to 30 min Timetable)

The bus terminal is just in front of the Okayama Station (southeast side). Look for Gate #1 where the Uno-bound Express buses come in.
Make sure to ask the driver "Express?" before riding. Also ask the driver to let you know when the bus arrives at Uno Station since no English announcement or signs on the bus. Express buses leave about every 20 min to 30 min from 6:05 AM until 11:05 PM.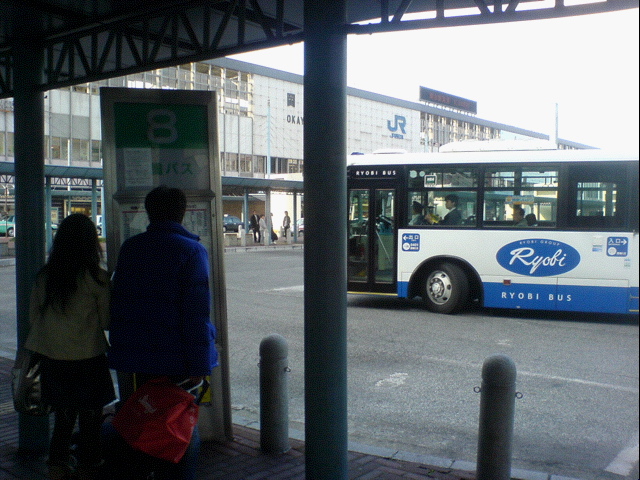 Tip: Most likely you will be able to have a seat and relax. Get a paper ticket when you are getting on the bus, pay exact change when you get off. Don't worry if you don't have small change. A coin changer next to the driver works at all times during the ride, or you slip in a 1000 yen bill when you exit and get the change.

3. By Taxi (about 7,000~10,000 yen/ 30 - 40 min ~ /departs anytime at your request)

My 2 cents: Nobody really does this. But if you want, sure you can.


When you arrive at Uno Station...
area map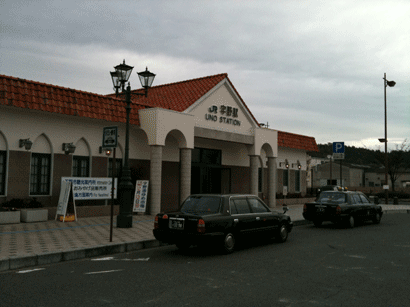 Having made an arrangement with us we'll pick you up for free. Or if you want to enjoy a 10 min walk, go ahead and tough it out (There's a steep 'slope' at the end, thus, Uno 'Slope' House).
Or if you want to go straight to Naoshima Island, walk southwest for 2 - 3 min to the ferry terminal. Among several ferry companies, only Shikoku-Kisen Ferry provides ferries to Naoshima Island (departs 13 times a day Timetable here). Either Miyanoura or Honmura bound gets you to Naoshima.

If desired, we can pick up your luggage only at the Uno Station and you'll be a light-weight happy tourist (No luggage lockers at the station). Later, we'll pick you up again at the Uno port when you return. We can arrange it any way you like.